Theresa York and Pamela Anzelc had been friends since York joined Anzelc's Portland dental practice in 1990.
Aug 14, 2023 • Theresa York, 59, is expected to plead guilty to theft charges at the end of the month after she was accused of stealing from her former friend and employer, Pamela Anzelc.
Both young mothers and six years apart in age, the families grew close. By 2001, York was Anzelc's second-in-command, in charge of depositing checks and coordinating with a private accountant.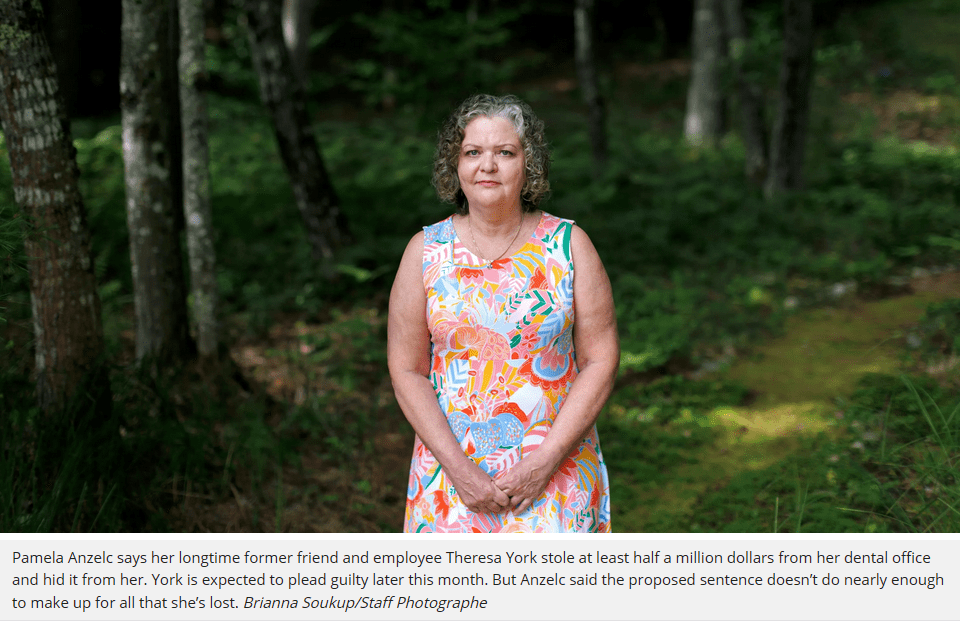 But in 2021, Anzelc received devastating news: She was more than $456,000 behind on federal taxes, she said, and she learned York was at fault.
For years, Anzelc said, York had been drafting checks for Anzelc to sign under the guise of paying the business's taxes, only to deposit them into her own accounts. York was also forging financial records at the office, Anzelc said, and shredding notices from the IRS.
"She'd come in with a smile and pretend she was there as my right-hand person," Anzelc said. "And all the time, she was robbing me blind."
York, 59, of South Portland, is expected to plead guilty to one count of theft by unauthorized taking, a class B crime, at a hearing scheduled for Aug. 28.
Through a plea agreement laid out in an email to Anzelc from a victim witness advocate, prosecutors plan to ask that York get a suspended six-year sentence. She would only have to serve time behind bars if she violates a three-year probation period.
Neither York nor her attorney responded to calls and texts asking about the plea deal Friday. The Cumberland County District Attorney's Office declined to comment on the deal; a spokesperson said they don't comment on open cases.
Anzelc said the proposed sentence doesn't do nearly enough to make up for all that she's lost. Not only does Anzelc want to see York jailed, she also wants York to pay Anzelc's legal fees.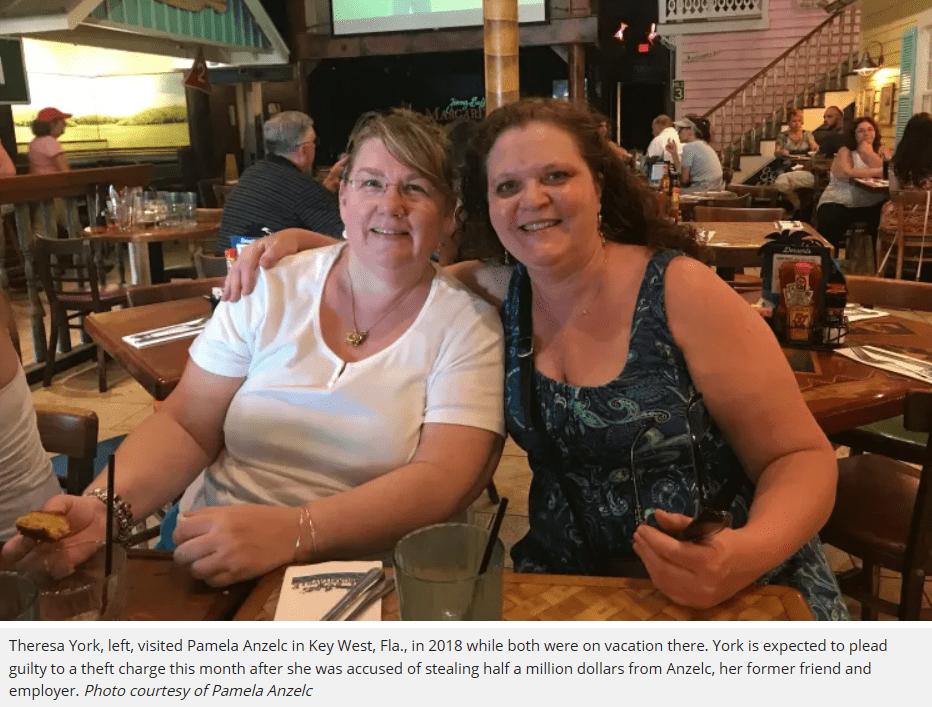 SHREDDED NOTICES, FALSE CHECKS
When Anzelc noticed the IRS was issuing her penalties for late taxes in 2016, she was confused.
She said her accountant at the time wasn't concerned. He blamed it on cash flow problems, she said, and told her it happens to plenty of other businesses. But he was relying exclusively on York's word and never checked in with the IRS, Anzelc said.
She started getting voicemails from several out-of-state numbers regarding unpaid taxes. York told her it was probably a scam, Anzelc said, and encouraged her not to call back.
Anzelc was on vacation in North Carolina on April 30, 2021, with her grandsons when she thought to check her bank account. She had been waiting more than two days for a check to deposit. But the IRS had frozen her bank accounts. They told her she owed more than $456,000 in unpaid federal taxes from 2016 to 2019, Anzelc said.
She worried immediately about payroll. She had about nine employees at the time.
"'There must be some mistake, this can't be right,'" Anzelc remembered thinking. "Why would I never have received any notices of being in default?"
But it turns out the IRS had been sending her certified notices for years, Anzelc said, and York was hiding and shredding them.
But Anzelc said she didn't know that yet and tried texting York for help.
"At dinner. Sorry. This is just crazy! I'm freaking out as well," Anzelc said York texted. "I will go online and look closely when I can." Anzelc said York ended the text "with a kissy-face."
That Friday was the last time Anzelc heard from York. Anzelc said she now believes her friend was fleeing to her family's house in Arizona.
After filing a report with Portland police on May 5, 2021, Anzelc said she was looking through a bin of documents to be shredded and found an envelope of York's personal bills and an IRS notice wedged between them.
Officer Henry William Johnson wrote in the May 5 report that other staff remembered seeing letters from the IRS, "and Theresa always claimed they were 'junk mail.'"
'A CRIME OF THIS MAGNITUDE'
Anzelc said she had to take out a half-million-dollar loan to pay her taxes. The amount she owed grew in 2020 and 2021.
While police investigated – York was indicted in April, nearly two years after Anzelc's police report – Anzelc hired her own attorneys, who reached a $475,000 restitution agreement with York in August 2021.
She said York is paying her back in $2,000-a-month installments. But the restitution agreement won't cover the $83,000 she said she spent on legal fees and accounting, nor will it cover the $6,238 Anzelc is paying in loan interest.
Anzelc said she plans to be at York's sentencing. There's a letter she wrote to the court in York's file, calling for a harsher sentence.
"Please know that one of the few things that will help me and my family heal is to know that justice has been served," Anzelc wrote. "I hope and pray that a crime of this magnitude requires that the perpetrator, Terry York, spends time in prison. I believe she has to reflect on what she did to me and my family."
Lisa Morrison, who sometimes worked for Anzelc answering calls and handling intake, said she was friends with York for more than 40 years, going back to eighth grade. York is a godmother to Morrison's son.
In her own letter to the court, Morrison said she was disappointed in York and felt awful for Anzelc.
"I've lost a friend in this, because I cannot stand by and be a friend to someone who would do this to a person like Pam," Morrison said in an interview Friday. "Pam was a very good person to her."
NEWS SOURCE
www.pressherald.com/2023/08/14/south-portland-woman-accused-of-stealing-half-a-million-dollars-from-dentist/
Hiltz & Associates – since 2004
Exclusively for dentists, dental specialists, practice owners and dental attorneys.
Click the image to learn more