Dental Embezzlement FAQ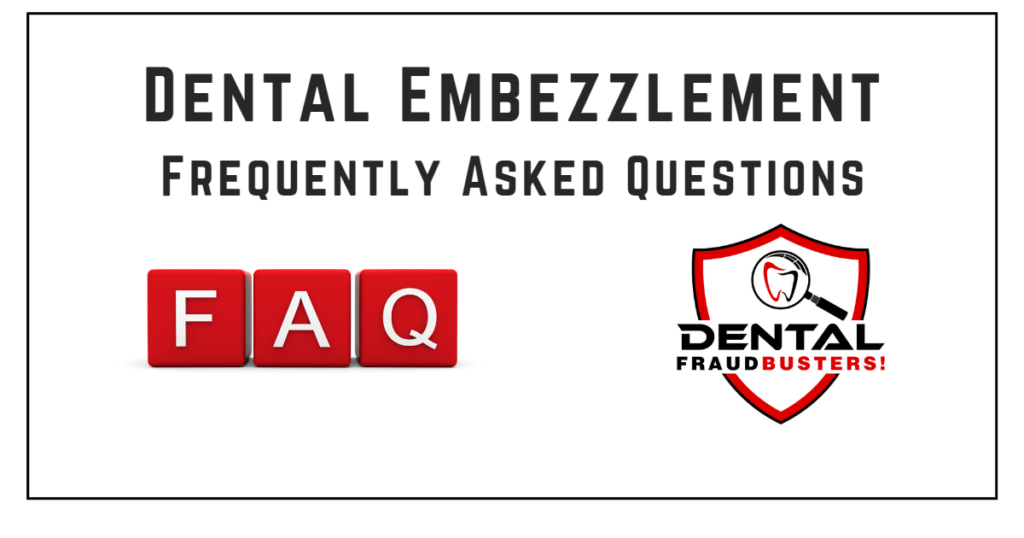 Here are the fraud & embezzlement questions asked by most dentists and practice owners. This FAQ is regularly updated.
"If you can't find the answer here, click the button below to ask me a question and receive a private reply."
William Hiltz BSc MBA CET
Frequently Asked Question
DO YOU CONDUCT DENTAL EMBEZZLEMENT INVESTIGATIONS?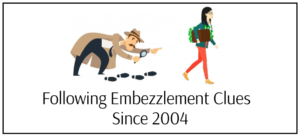 Yes. Since 2004, I have conducted hundreds of embezzlement investigations.
In most cases, I begin this work by conducting a Diagnostic Fraud Examination to uncover evidence that a current (or former) employee has embezzled.
If the evidence shows that dental embezzlement occurred, the next step is to determine when the thefts first began and the total dollar amount that was stolen. This information can be used to support the recovery or prosecution objectives of the dentist.
Dental Embezzlement Investigations are performed by Hiltz & Associates, the company behind Dental FraudBusters.
WHAT OTHER SERVICES DO YOU PROVIDE?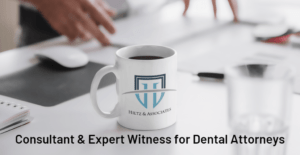 Here is a partial list of the services provided by Hiltz and Associates – the company behind Dental FraudBusters.
Fraud Examinations (investigate fraud by a business partner, an associate or employee)
Fraud Prevention: (reduce opportunity for theft)
Data Audit and Assessments: (data retention, data quality, data consolidation)
Expert Consultant to Dental Attorneys
Unethical business conduct involving dentists or practice owners. Digital forensics: discovering who did what, and when on a dental computer.
Learn more: Expert Witness for Dental Attorneys
WHERE CAN I FIND DENTAL EMBEZZLEMENT CASES?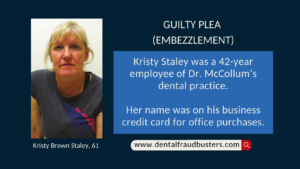 You can find hundreds of dental embezzlement cases in our Dental FraudBuster archives.
Gallery of Embezzlers in the News
If you want to report an 'Embezzler in the News' submit your request along with a link to the news story to Bill Hiltz. Contact Bill
MANAGING DENTAL EMBEZZLEMENT
DOES MY BUSINESS INSURANCE COVER EMPLOYEE THEFT?
Yes, you can claim loses as a result of employee theft if your business insurance policy includes employee dishonesty coverage. (also called "crime insurance")
Many business owner policies include employee dishonesty coverage ranging from $5,000 to $25,000, which is not enough.
Coverage should be $50K or more, and include 'claim expense' coverage.
Click here to learn more: Does my practice have crime insurance?
WILL I BE REQUIRED TO FILE A POLICE REPORT?
No, you will not be required to make a report to law enforcement.
There are exceptions, for example:
If the embezzler is a member of a regulated profession (e.g.: a dentist), you may have an obligation to report, or if other concurrent crimes were committed, such as controlled substance theft and prescription fraud, or if required for recovery purposes.