Find a Dental Embezzler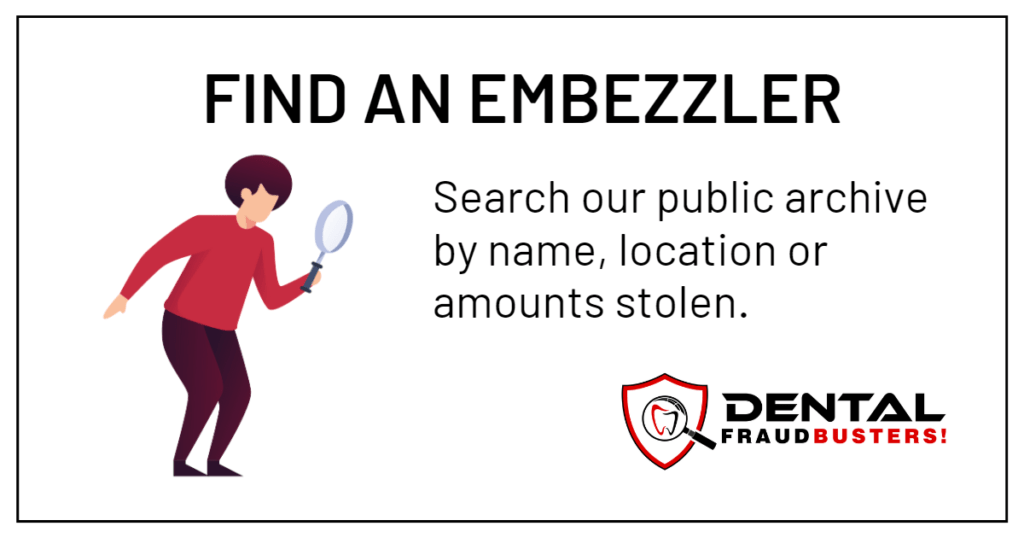 OUR LIST OF DENTAL EMBEZZLERS KEEPS GROWING
The embezzler information listed on Dental FraudBusters was taken from public domain sources. This means every dental embezzler on this website was either arrested, charged, or convicted.
While our list keeps growing each month, please understand only a small percentage of embezzlers are listed here.
We did not search every court record in the land, and could not do so since many court records are not available online. As well, for various reasons, many embezzlement cases are not reported, not prosecuted or settled out of court.
REPORT AN EMBEZZLER: If you know an embezzler who should be included the Dental FraudBusters public archive, please contact me here.
Search Embezzlers by Name
Search Embezzlers by Tag
$1M+ $5K-$99K $100-250K $250-499K $500-999K AB AK AL AR Australia AZ BC CA CO CT Drugs England FL GA GUAM HI IA ID IL IN KS KY LA MA MD Medicaid MI MN MO MT NC NH NJ NM NS NV NY OH OK ON OR Other PA SC SD Serial Embezzler TN TX UT VA VT WA WI WV