CRANBERRY TOWNSHIP, PA (May 23, 2023) Kimberly Cook, 58 is accused of stealing thousands of dollars from a dentist's office where she was working.
Cook was also accused of stealing money from a restaurant owned by a former Steelers player in 2017.
The owners of the dentist's office said they had no idea it was the same woman because she used a fake name to get the job. [ Related: How to fact check job applicant's resumes ]
"This was a really masterminded plan," said Erika Morrow with Generational Dental Associates.
"She applied as 'Kimberly Meyer. That's how she introduced herself and applied for the job," said Morrow.
Cook has been charged with felony theft for allegedly stealing about $20,000 from the dental office where she worked as a clerk for about two years.
Cook reportedly handled payments from patients and would encourage patients to pay in cash, according to a criminal complaint.
Related: listen to dental embezzler telling patient to Bring cash -we don't accept checks!
Office owners became suspicious after two patients contacted them in March with questions regarding their cash payments.
Police said Cook entered cash payments as credit card payments 46 times starting in January 2021. Cook admitted to stealing the money, said police.
"It's really disappointing, we are a family-owned operation and small business," Morrow told WPXI.
Cook has a history of criminal activity of theft and forgery, according to court documents.
She was also accused of stealing $73,000 over a three year period from the Hines Ward Table 86 restaurant back in 2017. (see image below)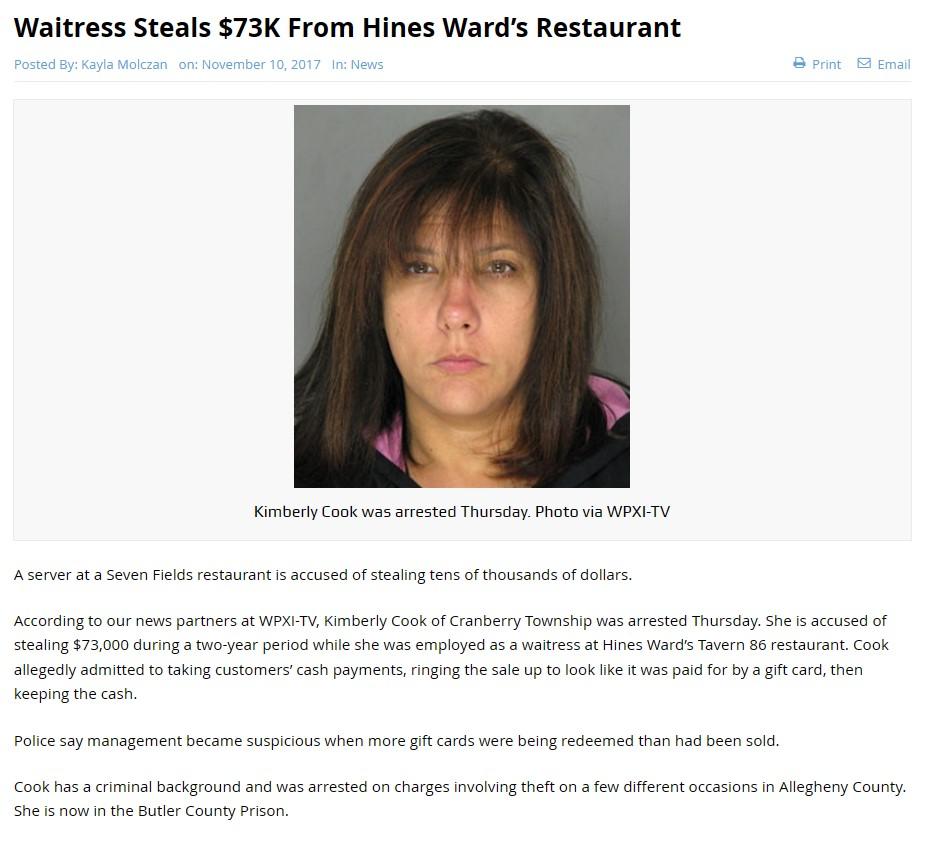 ---
Hiltz & Associates – since 2004
Exclusively for dentists, dental specialists, practice owners and dental attorneys.
Click the image to learn more