"I wanted to bring this story of dentist fraud to your attention because of the similarities with employee fraud – and the potential implications for dentists they are not prepared." – Bill Hiltz
When insurance companies detect fraudulent claims are being sent from your office – you know their focus will be first on you.
Below is the case involving a dentist who was sentenced to prison. She did commit fraud and was guilty.
Then there is the case of a dentist who went to prison for healthcare fraud, who many feel was unjustly convicted. (scroll down further)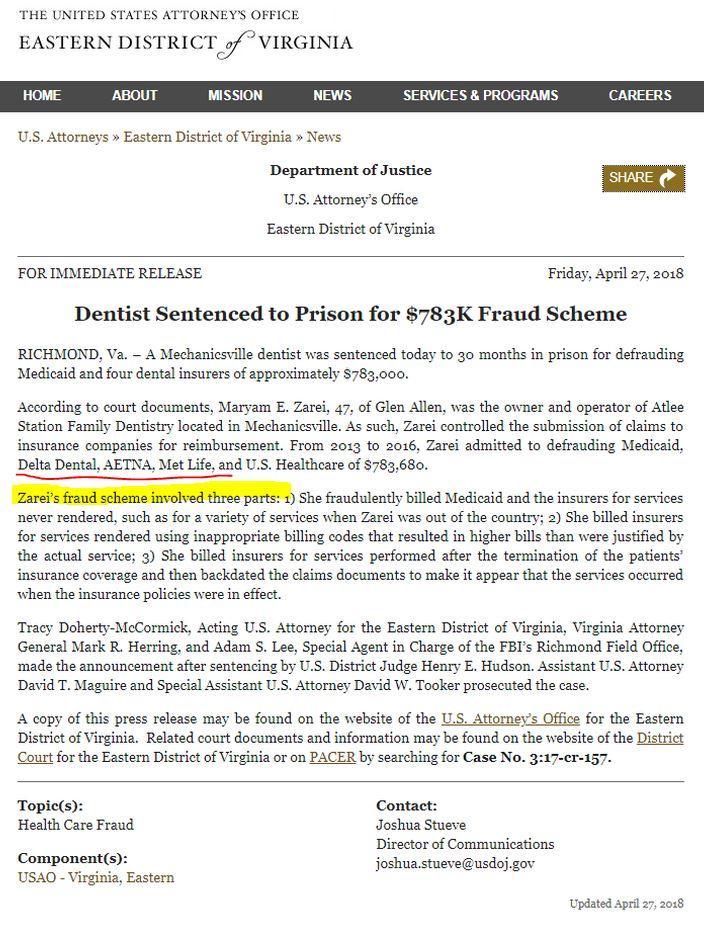 The dentist in this case did three things that landed her in prison.
She:
1- fraudulently billed insurers for services never rendered
2- billed insurers for services rendered using inappropriate billing codes that resulted in higher bills than were justified by the actual service
3- billed insurers for services performed after the termination of the patients' insurance coverage and then backdated the claims documents to make it appear that the services occurred when the insurance policies were in effect.
What happens if your employee steals from insurance companies?
Your employees can steal from insurance companies in the same way, and you can be held accountable.
If your documentation and record keeping cannot defend you against any allegations, you may go to prison.   (Like this dentist – Dr. Roy Shelburne)
Dishonest employees use the same schemes to "milk" benefits from insurance companies, and they use your credentials while they do it.
When an insurance company detects there are false claims coming from your office, they will focus attention on you.  Some insurers will think that you have "dirty hands" and were involved in, or knew about, the fraudulent claims. They may also want to audit.
In order to defend against any such allegations or claims, the best approach for dentists to claim "clean hands" and demonstrate that they:
• had no knowledge that the employee was making fraudulent claims
• did not instruct the employee to commit fraud
• did not authorize the employee to commit fraud
• were not "willfully blind" , choosing to ignore the actions of the employee.
In every case* where an employee was submitting fraudulent claims to insurance companies, I successfully argued "clean hands" for my clients to the insurers, and shifted the focus to the employee. This helped to stop and lessen audits of my clients by insurance companies.
*in every case except one.
When insurance companies started asking the dentist uncomfortable questions about claims, he hired me to investigate his office manager, who the dentist claimed was responsible.  His office manager had been working there for a short time, but it was easy to believe she was responsible.
The dentist recently learned that she was a convicted serial dental embezzler who was released from prison less than 12 months ago. She was found guilty of stealing from seven different dental offices. 
I took the case, the dentist was a likable guy. As time went on, I could see things were not adding up, and I knew that my client was responsible. The serial embezzler he had employed happened to be in the wrong place, at the wrong time.
I ultimately had to sever my engagement with this dentist.  He was charged, but they were dropped, and he did not go to prison. He did lose his license for a period of time, paid hefty restitution and penalties,  and moved to a different state where he still practices.