Different cases; Similar jail sentences
Is there really equal justice for all?
An embezzler can receive a heavy or light sentence depending on the judge, the jurisdiction and the circumstances. (Read about this woman who was sentenced to 20 years for stealing $220,000 from a dental practice)
Here are two cases where both employees were given similar jail sentences, but that's where the similarity ends.
If you were the judge in both if theses cases, what would you have done?
Case #1 – Nebraska woman found guilty of stealing $87,000
Sentenced to 24 -48 months
| | |
| --- | --- |
| Embezzler's Annual Salary | $28,000 |
| Amount Stolen | $87,000 |
| Length of Crime: | 35 months |
| Average amount stolen each month | $2,500 |
| Business | Small electronics store |
"she told law enforcement that she used the money to pay bills, indicating she did not receive enough money from her job to cover them"
Source: https://columbustelegram.com/news/local/crime-and-courts/monroe-woman-found-guilty-of-embezzlement-sentenced—years/article_85de030c-b150-537b-91b1-58307f478fa5.html
Case #2: Connecticut woman found guilty of stealing $1,100,000
Sentenced to 30 months
| | |
| --- | --- |
| Embezzler's Annual Salary | $150,000 |
| Amount Stolen | $1,100,000 |
| Length of Crime: | 30 months |
| Average amount stolen each month | $37,000 |
| Business | BMW Dealership |
"dropped over $50,000 on a new Ford Mustang and spent the rest of her stolen money on things like lavish travels around the globe, cosmetic surgery, landscaping and remodeling for her house"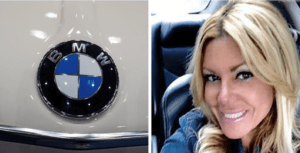 Source: http://www.thedrive.com/news/25667/bmw-dealership-employee-who-embezzled-1-1m-sentenced-to-30-months-in-prison