Irina Chernyakhovsky
a.k.a Irina Fooks, Karen Fooks, Irina Rabkin
Irina Chernyakhovsky is a career serial embezzler and fraudster who stole from at least 6 (some say 10+) dental dental practices, five banks and insurance companies in the Greater Toronto Area between 2005 and 2016.
Irina has been imprisoned twice for financial crimes;
2009 – 2 years
2018 – 3 years
My involvement with Irina occurred between 2008 and 2009, after she was first arrested in 2007
2007
Irina Chernyakhovsky's First Arrest.
2009
Irina gets two years in prison for insurance fraud scheme
April 2009 – Globe and Mail
A former dental receptionist who defrauded six dentists and at least five banks and insurance companies was sentenced to two years in a federal penitentiary yesterday, after pleading guilty to 11 of the 174 charges she originally faced.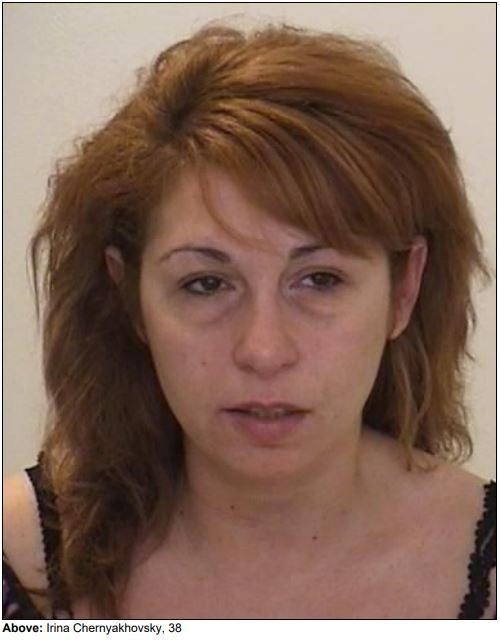 Between 2005 and 2007, Irina Chernyakhovsky embezzled nearly $200,000 from her employers, five dental offices in Toronto and one in Stouffville.
Ms. Chernyakhovsky also stole an additional $10,000 in items, including gold jewellery and credit cards, from Dave Freedman's dental office in the Kennedy Road and Eglinton Avenue area.
"It's rank, egregious and it's flagrantly wrong," Dr. Freedman said of the sentence. "I was hoping for at least five or six years."
Dr. Freedman said that Ms. Chernyakhovsky created invoices for work that was never done and used the names of existing clients to charge insurance companies thousands of dollars in dental care. When the companies paid, Ms. Chernyakhovsky would steal the checks and deposit the money in her own account.
"Her favorite thing was the three-molar root canal … which costs about $800 in one visit," Dr. Freedman said.
Hal Kershen, a dentist who lost $14,000 to Ms. Chernyakhovsky's scheme, said "she would make around $3,000 some days."
In March 2006, Ms. Chernyakhovsky was arrested and charged with fraud for the first time after she stole more than $9,000 from a Toronto dentist. She was released and told by the court that she could not seek employment at any other dental offices.
On May 16 and July 16, 2007, Ms. Chernyakhovsky was arrested with failure to comply after police discovered she had taken reception jobs with dentists in the city.
On Oct. 22, 2008, she was arrested after an employee at an Oakville dentist office – where Ms. Chernyakhovsky had just started working – became suspicious and checked into her background.
"I was hired by this practice owner to investigate Irina." – Bill Hiltz
The dental office discovered Ms. Chernyakhovsky used a false name and reported her to the police. Police officers went to the dental office and arrested her. She has been in custody since. (Irina's SECOND arrest)
In addition to the two years Ms. Chernyakhovsky will serve, she will also face three years of probation after she's released.
She will also have to pay restitution to those she defrauded.
2016
Police arrest Irina a third time in $232,000 employment insurance fraud
Jan 2016 – The Toronto Star
A Markham woman is facing four charges follow a York Regional Police Major Fraud Unit investigation into a $232,623 employment insurance fraud.
According to police, officers began an investigation in August 2015 after a complaint from Service Canada. Service Canada investigators had discovered that, beginning in 2008, a total of $232,623 in fraudulent benefit claims were paid out to a suspect who had used more than 60 different stolen identities.
Markham woman Irina Chernyakhovsky, 47, has been arrested and charged with fraud over $5,000, utter forged document, possession of property obtained by crime and breach of probation.
She is scheduled to appear in a Newmarket court on Feb. 18.
Irina arrested a fourth time just two months later in another dental office!
Apr 13, 2016 – York Region News
Only two months after she was charged for a $230,000 employment insurance fraud, serial dentist office scammer Irina Chernyakhovsky has been arrested once again.
York Regional Police's fraud squad cuffed Chernyakhovksy on Monday – with three checks in her purse – after she had been once again hired at a dental office, this time in her hometown of Markham.
Although it appears she changed her appearance, someone recognized her and called police.
"It just goes to show you how quickly it can happen," said an employee who wished to remain anonymous, noting Chernyakhovsky had only been employed for a matter of days.
In all, Chernyakhovsky has been linked to about 60 different identities and has been convicted of frauds throughout the dental industry.
One of the scams she has been convicted of involved submitting fraudulent insurance claims for expensive dental procedures under patients' names and then intercepting their insurance checks, according to the Royal College of Dental Surgeons of Ontario.
In previous schemes, she swindled $193,336 from banks and insurers.
But it's not only institutions she has stolen from as dentists around the region and farther afield have been hit.
Dr. David Freeman lost about $90,000 in 2005 and another dentist about $14,000.
At her last trial, Chernyakhovsky's lawyer said her penchant for fraud began when her husband left her penniless in 2004.
Chernyakhovsky's son, Josh, said his mom is a great person, but admitted that she made a mistake.
She has been charged with breaching her bail conditions, which forbid her from working around finances, claims or receivables and possessing checks.
She was scheduled to be in court on Wednesday at 9:30 a.m..
2018
Irina is sentenced to to prison again, this time for three years