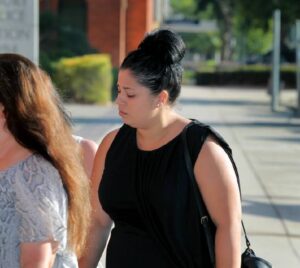 December 2013
A LAVINGTON woman who stole more than $67,000 from her employer had manipulated deposit slips to cover her tracks and used a significant degree of planning in her thefts, a police prosecutor said yesterday.
Sgt Garry Rowe told magistrate Tony Murray in Albury Local Court that general deterrence for such offences was the primary consideration.
Kathryn Ellen Michael had been motivated by greed, the amount of money was significant and she offended over almost two years.
"She does come before the court with no criminal record, but fraud offences are generally committed by people of previous good character," Sgt Rowe said in his submission on sentencing.
He agreed with a suggestion by solicitor James Sloan that an intensive corrections order could be an appropriate penalty.
Michael, 22, of Finke Court, appeared for sentencing over the theft of $67,883.21 from Evolve Orthodontics.
She began working as a receptionist at the Albury business in Thurgoona Street in February 2010 and the thefts happened between August 1 that year and May 17, 2012.
The money was used for a car, jet ski, house and gambling and police said Michael lived a life she was unable to afford.
It is unlikely the business will be able to recoup its loss because Michael is declared bankrupt.
The business is operated by John Brabant, founder of the Carevan Foundation, which feeds homeless and disadvantaged people.
The main premises are in Albury and Wangaratta, with satellite offices at Bright, Cobram, Yarrawonga and Deniliquin.
Mr Sloan said gambling was an insidious addiction for many.
"Gambling can only be used as an explanation, not an excuse," Mr Sloan said.
"A lot of this was motivated by gambling.
"This young woman admits it was a serious breach of trust.
"This woman needs to be able to build her life again."
Mr Sloan said she needed to get a job and repay the victim, but sending her to jail would not achieve that aim.
When Michael was originally charged, the amount alleged was in the vicinity of $400,000 and later changed to about $200,000 before agreement on the present figure.
Mr Murray said the motive was personal gain and the amount spent on gambling and other items was unable to be defined.
He said Michael had a self-imposed exclusion on gambling venues in the Albury region.
Mr Murray said an intensive corrections order would benefit the community, with Michael to work for it.
Michael was convicted and Mr Murray imposed a 19-month sentence, but ordered she be assessed to see if it can be served as an intensive corrections order.
The case has been adjourned until March 24.