An audit revealed that Adams allegedly stole over $500,000.
A woman is now under arrest, accused of stealing hundreds of thousands of dollars from a west side doctor's office.
Christy Adams, 39, is facing a slew of charges, including theft, forgery, misuse of a credit card, and tampering with evidence.
"This was not Adam's first rodeo. She was previously convicted for stealing from a previous employee, and yet was hired by the practice. Proper hiring diligence would have prevented this from happening. Adam's worked in the practice for 20 months, and stole over half-a-million dollars. No doubt that most months she stole more for herself than what the doctors' actually paid themselves. The doctors knew there were financial issues, but blamed the pandemic."

Bill Hiltz
Prosecutors say she stole money from West Side Pediatrics between September of 2019 and May of 2021.
Police said Adams used the money to pay for vacations, cruises, increases in salary, vehicles and to pay for her daughter's wedding.
Adams was indicted on on 10 felony counts ranging from theft, misuse of credit cards, telecommunications fraud, forgery and tampering with records.
In a statement on Facebook, Westside Pediatrics assured patients that there was no indication Adams compromised the privacy or rights of their patients or the security of their personal information.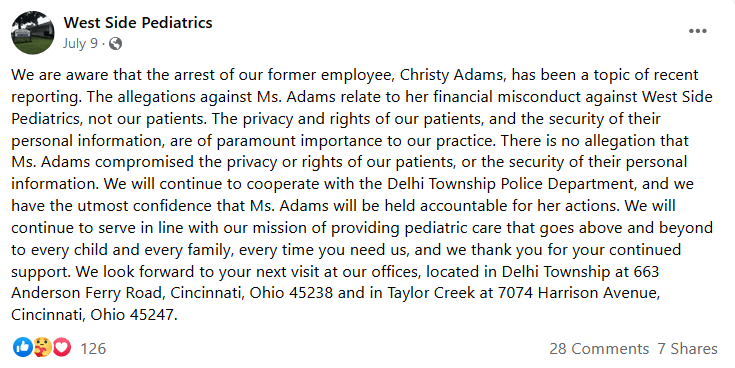 Adams had apparently done this to a previous employer. She was convicted of stealing from the Talbert House. She had to go through probation and pay back $500.
According to police, doctors were aware of financial issues, but thought they were related to the pandemic.
Don't make the biggest hiring mistake of your career.
Download a copy of our Pre-Employment Checklist